Right, I'll start with the online shop and my feelings on the 5 weeks of dialog with this German company!
It all started the 11th of March, after I got a tip from people over at the HappyMTB forum, I started looking at the page and fairly quickly settled for the Opium XI disc SRAM Apex, obviously I had questions before ordering so I called them quickly to check it out, I first talked to a woman, who answered in German, I asked if she spoke English and she politely asked me to wait while she transferred me to someone else, the man I got to speak to spoke good English and answered all my questions (delivery time, 4 weeks about, no additional time for custom color, yes the bike and wheel should carry my weight).
With all my answers the next "problem" started, choosing the color, after many, many hours by my wife in Paint Shop pro, I settled for the light blue, and man, was it good looking!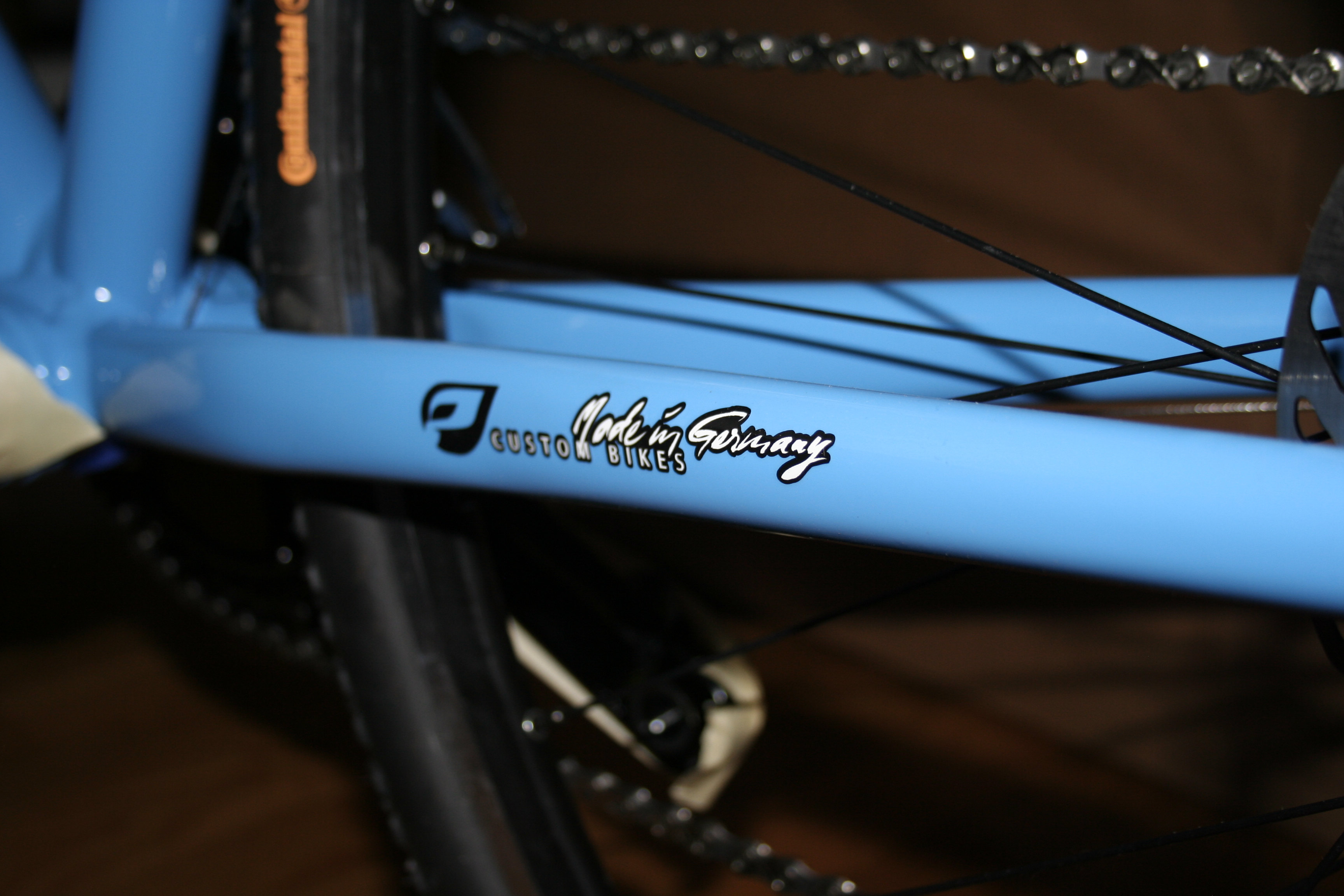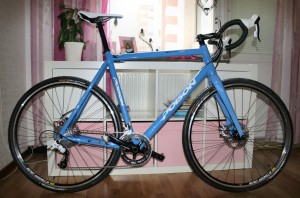 Well, I started the ordering process and changed the saddle to a Fi'zi:k tundra white, I chose my own color, RAL5012 Lichtblau and accepted terms and payment.
Right, from I placed the order it took only a couple of hours before I got the confirmation, and just one day for them to ask me the first question, decal colors, since I didn't specify anything
The next day I called them to make sure my measurements were good, and was instantly confronted with a couple of questions and to my surprise a offer to "upgrade" to the Shimano 105 version, now I say "upgrade" because I didn't want Shimano, nothing against them but I wanted double tap, non the less, the offer was much appreciated!
The day after that I got curious about the painting as they only listed powder, and the fork is carbon fiber, so I asked them if the fork would be painted, and behold answer was no, but if I wanted to they could, no added cost but it would take about a week longer then, bringing the total time for me to wait up to 5 weeks, I accepted this and moved on.
Later on I also asked about mudguards, and told them to send something that would fit and cover everything, they did put a line on the bill saying "SKS Race Blade VR + HR Set fitting for Opium" but there was no mudguards in the box with the bike, at the time of this review, I sent them a mail asking about it, telling them that I'll fix my own here and not bill me for the ones I didn't get, I'll update this post once I know the outcome, but based on my contact with them so far, I don't think it will be a issue.
Skip ahead a few weeks, to Friday, April the 12th and I got a mail from the transport company, the bike was shipped.
from there on it took awhile and I got nervous so I called them the next Wednesday (17th of April) and I called the company, since the last update was Monday, stating it was in Hamburg, it took about 20-30 minutes of calling, several transfers before they told me the package was handed over to the Swedish partner, whom called me about 40 minutes later to confirm delivery the next day, I told them to call 30 minutes ahead since I was home on paternity leave.
D-day, Thursday the 18th, man was I waiting, and waiting, and waiting…
Around 13:00 I couldn't wait anymore and called the local transport company, after a bit of fiddling I got in contact with the transport office who called the driver, and I was told he tried to call me three times which considering I'd been home all day and reception is great here, I had no missed calls or messages on my voice mail, must have been a tiny lie (speculation on my part) and I told them to come back, which they did.
40 minutes later I had a huge box in my living room..
A few notes on the delivery, Poisons information was to ship it upright, the local company at least had it flat, the box was dirty and damaged, but the bike was OK, so I guess that's something.
So, the quick pro's and con's:
Pro's:
Great service from Poison
Prices are good
Lots of options
Bike comes ready, just loosen six screws, twist and align the handlebar then tighten the same six screws.
Con's:
Site is in German, not a big con, it's a German company and Google translate works well with German to English

Shipping was a bit more expensive then other companies, but the total price was still competitive.
Bottom line, I'm very pleased with how it was handled, the cons are so small it's almost not worth mentioning, the people I spoke or mailed with responded quickly (mail usually same day, no later then next morning) and the bike was delivered at the promised time!
Now back to the good part!
What can I say, I only biked for maybe 3 hours, a quick trip to find a bottle cage and some mudguards (I found the cage, not the mudguards, so I ordered some online) and a trip with my coworker who came to pick up my old bike, as he's borrowing it for the summer/fall.
Anyway, the bike, man compared to the old one it's lighter, quicker, speedier and more stable.
Things I like about it so far:
Internal cabling
The color, man the blue turned out so good and the paint job is awesome
I love the ease of shifting, SRAM double tap works like a charm
The wheels feel solid, didn't notice much if any flex.
A few things that bummed me out a little as I thought they said it had mudguard mountings (eyelets and stuff), which it didn't but that might just be language barrier and misunderstandings, and I did order a pair of Planet Bike Speedez mudguards, hopefully that will be all I need.
UPDATE: Issue with the mudguards cleared out, Poison removed it from the bill, the total of the bike became 1314€ or just under 11.400 SEK!
I guess I'll post a review after commuting for awhile, in the meantime check out the pictures on my bike page