A long day of small roads and the boarder on the horizon.
We started the morning fairly well rested after sleeping in a cabin, clothes were dry and the weather was looking promising, even with the clouds on display.
We mapped out a road to Likenäs and then up Sysselbäck to Medskogen and over to Norway, with the aim to get a decent camp spot for a shortish trip to my grandmother for a rest day.
Day 4. Going to Norway!
All right, lets get started, we got going around seven, early but we did all the packing last night so it was lock and load.
Started nice and slow on the small country roads out of Malung, some light rains on and off but nothing bad, one puncture for Hannu to fix.
The plan was to follow a road over a "hilly" area to Likenäs, we got told by a old gentleman on the way that we were in luck, there would be more asphalt than we feared, so we started the uphill and enjoyed the slow pace to start.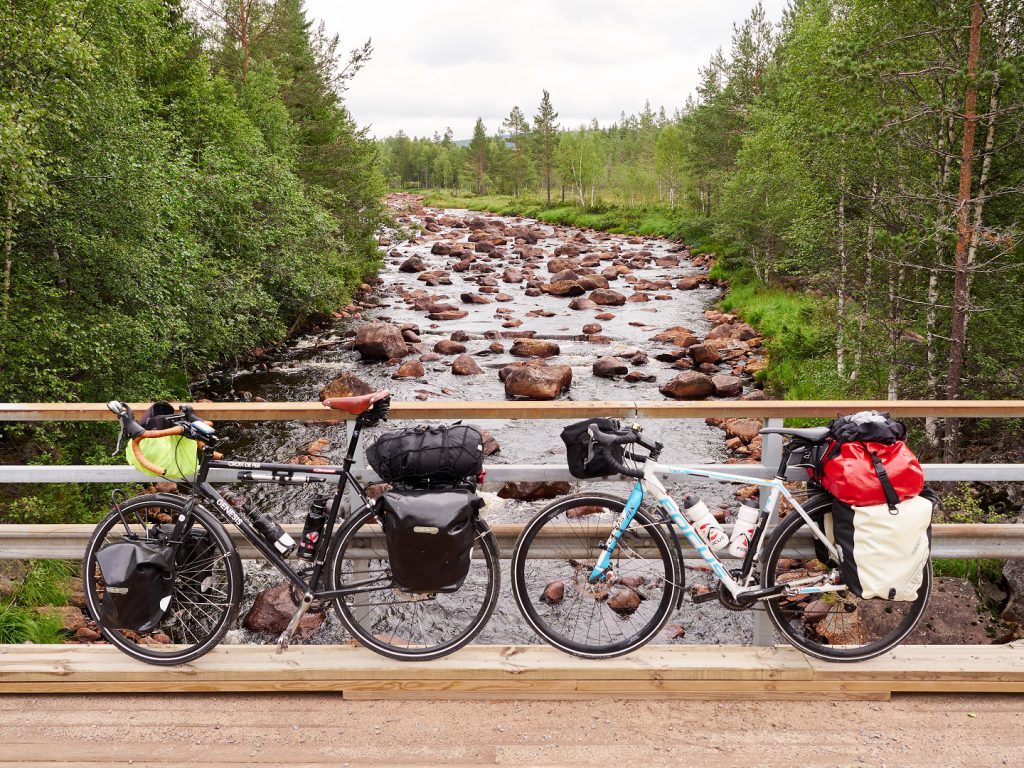 The road to LIkenäs gave some nice views, including the river/stream under this wooden bridge.
On the way down on the gravel part I lost two 1.5 water bottles that was under my net, didn't notice it before we stopped for this picture, fun times.
The gravel road ended fairly quick and we got our first insane downhill of the trip, from the top here down to Likenäs was a unfortunately un-smooth asphalt road with some nice corners to ride down, like madmen, until the bikes started bouncing a wee bit to much..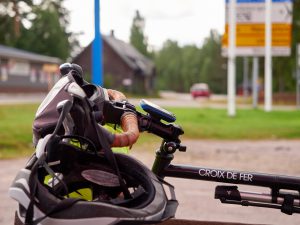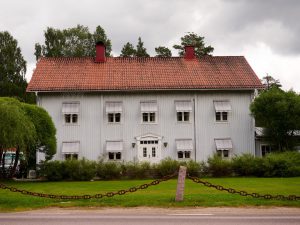 The Iron cross resting close to the food store and some random older house in Likenäs.
After food we started biking up towards Sysselbäck, fairly nice roads and all, a little rain on the way, but nothing major.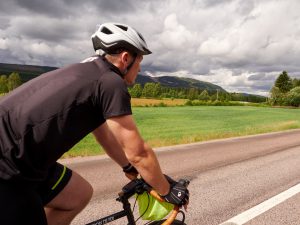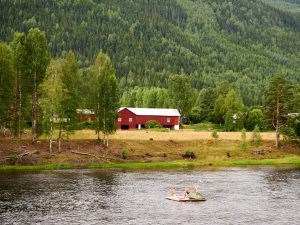 Some nice and dramatic clouds biking from Likenäs to Sysselbäck and some strange Swedes on a raft with a tent, waving at us.
We actually made a quick stop in Sysselbäck, even if it was not a far ride, there was a chocolate maker there, with home made gelato to, so I mean, come on!
The place was called Naturpalinen and was worth a stop in it self!
Not going to write a whole lot for the rest of the road to the border, it was nice, we had a really big hill, we enjoyed that, just check out Hannu bellow…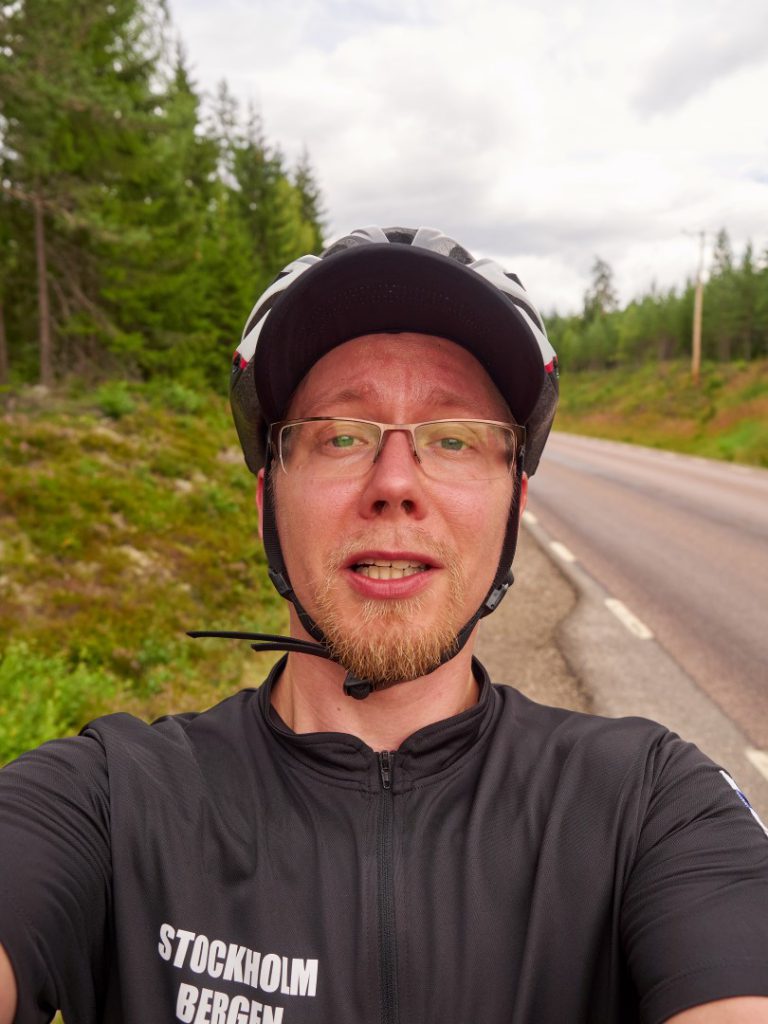 Hannu with his "I just did a really big hill face" posing for a selfie, this was after Sysselbäck towards Medskogen.

We didnt have much problems getting to Medskogen, stopped for food again at the ICA there and rested before starting a rather nice downhill sections to the border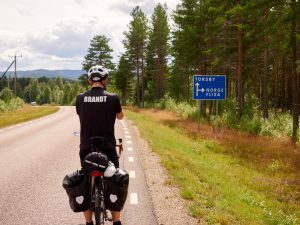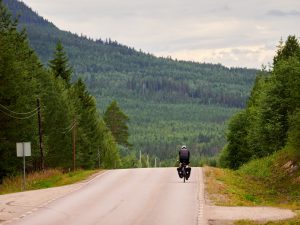 Getting close to the border, and the nice downhill towards it!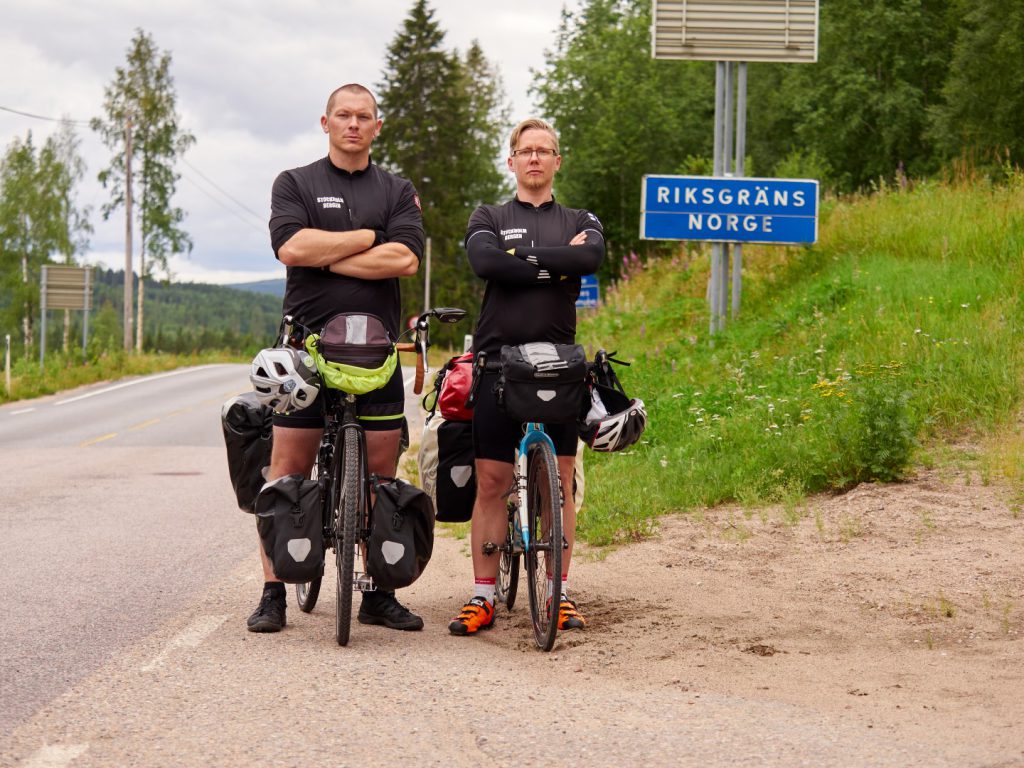 Border Selfie, kinda obvious I guess.
From the border we went on the roads towards Norway, getting more and more hills, I also developed some kind of pain in my achilles, both of them to be exact, not sure what happend but they felt sore and painfull.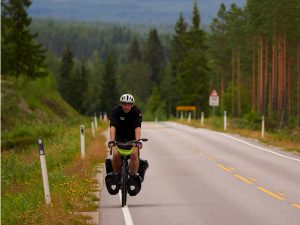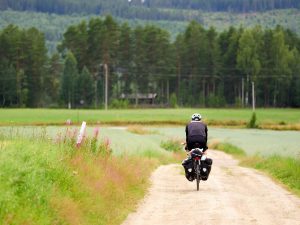 First uphill after the border maybe? and google maps suggestion for a Norwegian bike road (sand to gravel to pavement again)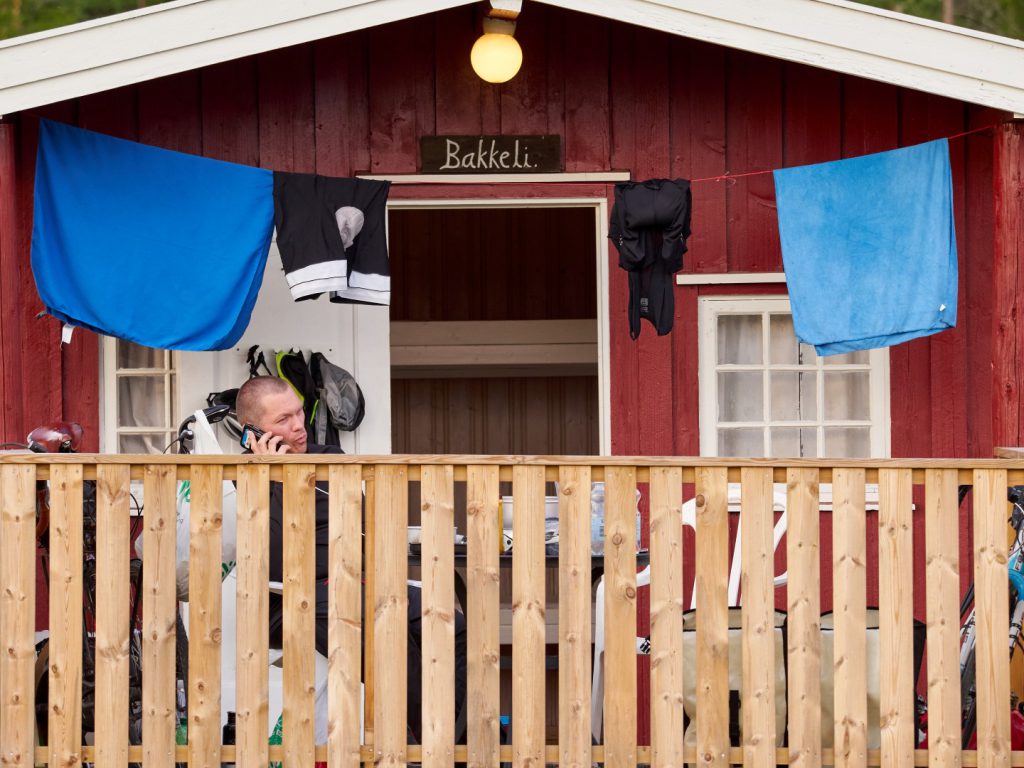 Chilling on the balcony at the cabin outside Flisa, by the river Glomma

Day 5, The day we go to my granny!

Day five got split up due to my achilles acting up, generaly tiredness and other random excuses.
We got up a little late again, I think we were packed and ready to leave about nine, managed to deliver the key and get the deposit back for the cabin, so thats a bonus I guess, it was raining in the morning, and the weather was slightly chilly.
Already in the morning we decided to bike to Hamar and take the train to Moelv, to skip a boring part and try to give my achilles some more rest.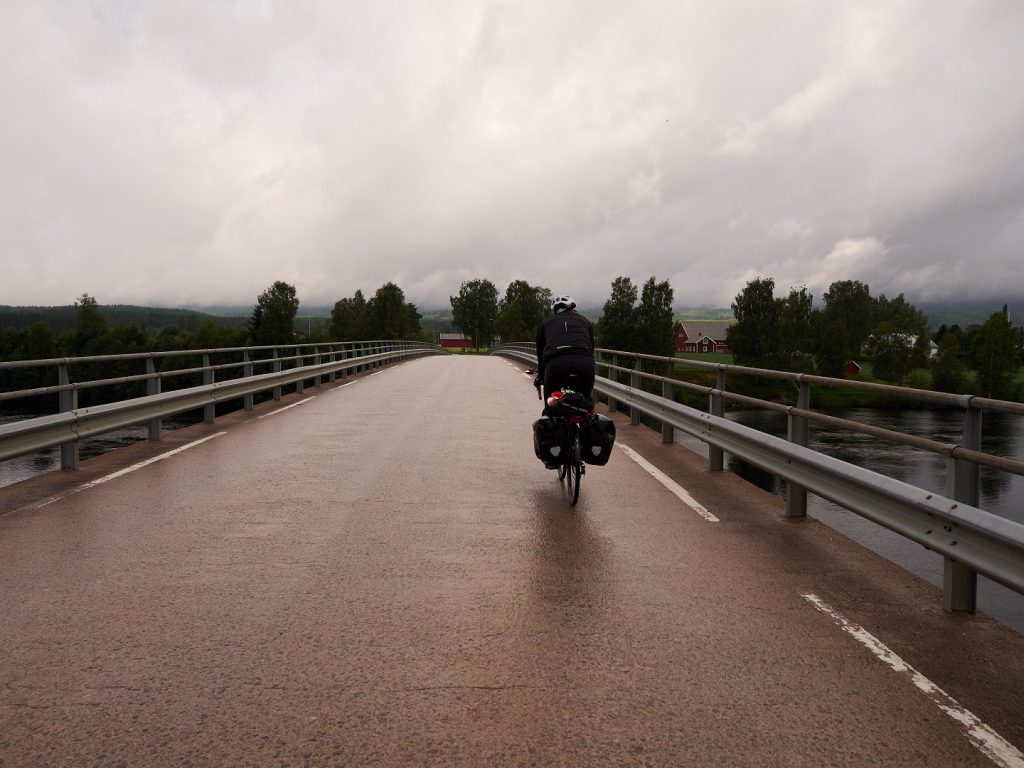 Leaving from the camp and crossing the Glomma river, heading towards Hamar.
The road to Hamar was ok, nothing really exciting, but cant always be exciting can it?
There was a short stop for snacks and a leg rest in Löten, but that was it I think.
We navigated ourselves to XXL, a sports good store in Scandinavia, to get some warmer clothes for the mountains, I got some legwarmers and shoe covers, and a couple of energy gels just in case.
Afterwards we stopped by the Viking ship sports arena, where they had some of the olympic events during the Lillehammer games in 1994, a quick photo later we biked to the train station.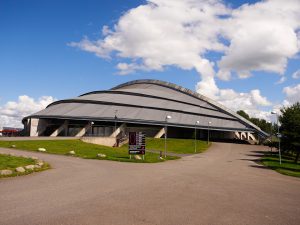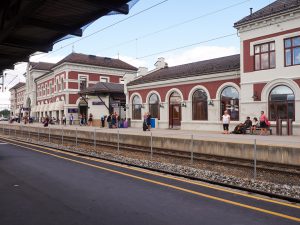 The Viking ship in all it's glory or something and the Hamar trainstation.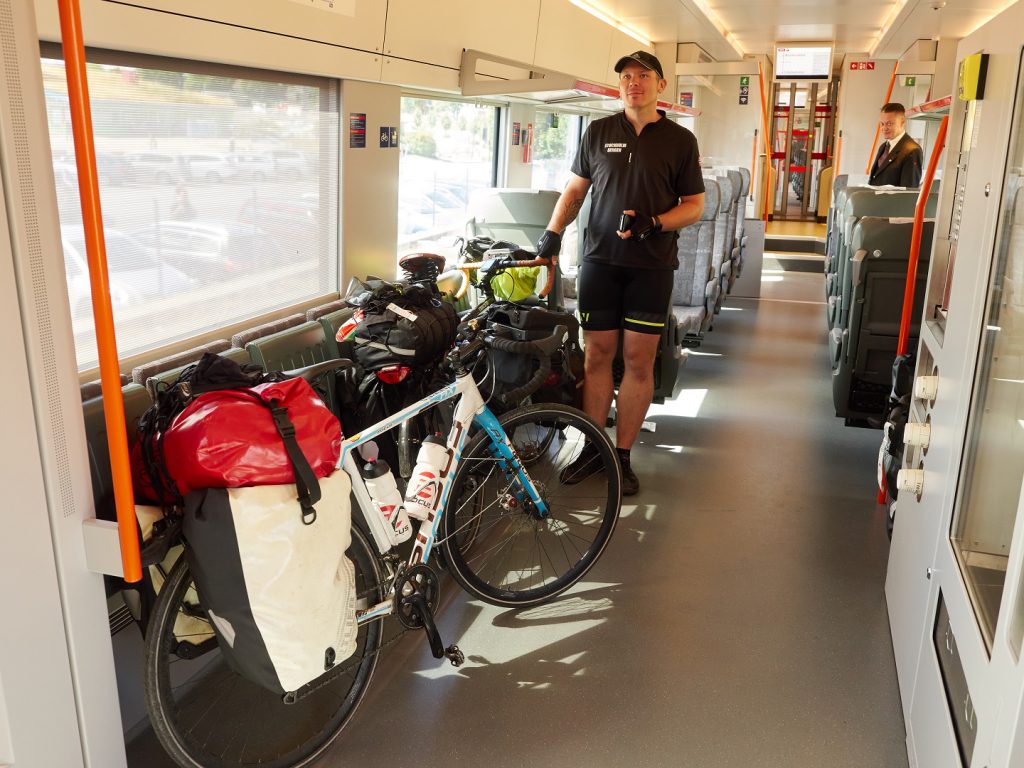 Choo choo, we are on a train to Moelv, thanks NSB for doing what the w¤%& at SL cant do, accept bikes on the trains….
The train ride was like 17 minutes (35km of biking saved), and we got of really close to the bridge over Mjösa, so we got to bike the 1,5km of bridge over to the other side, and have a slightly boring road with lots of trafik in to Gjövik where the goal was to eat at Peppes Pizza, my favorit Norwegian pizza place, we also got to say hi to my mom's cousin!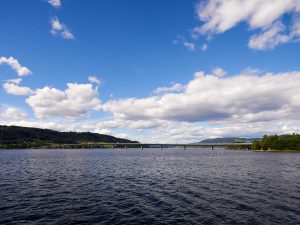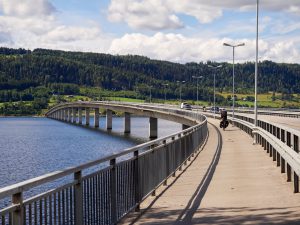 The Mjösa bridge from a far, picture taking from the docks where Skibladner goes from, and up close, with my backside for scale.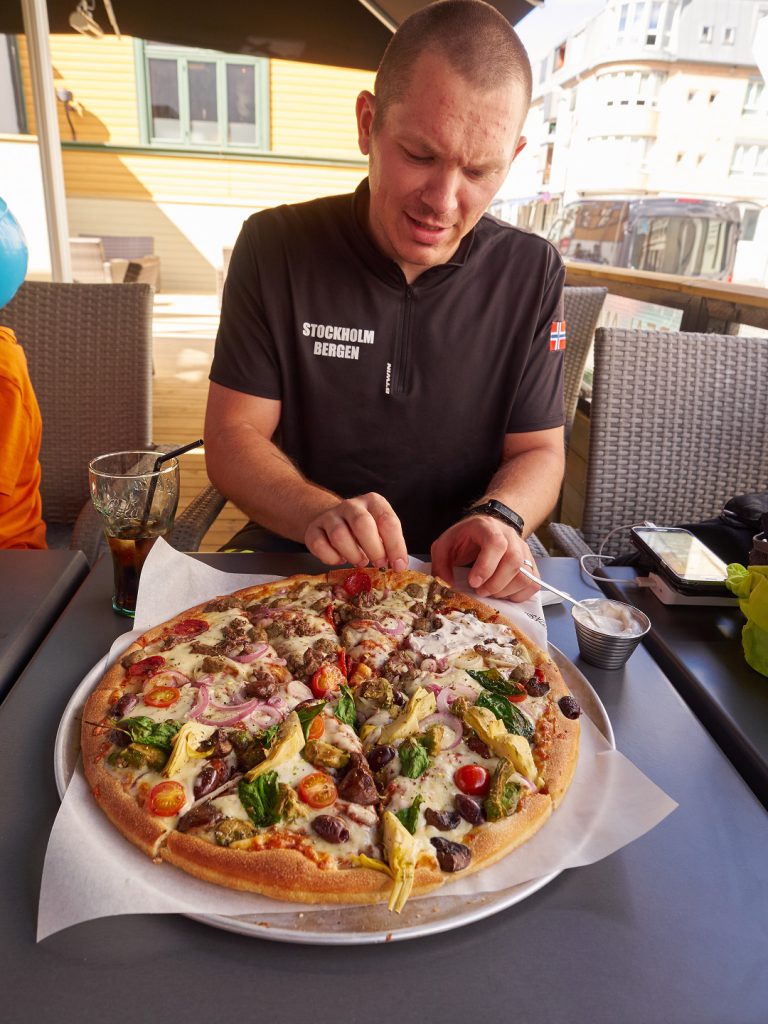 Peppes pizza, I always have the Heavy heaven, with garlic sauce on the side, Hannu had some green thing.

After food we started our last twenty something kilometers of biking to our rest day stop, my lovely grandmothers place. since we are now in a city the road to our stop is mostly suburbs, villas and industry so nothing realy to write home about, but we did stop by some rapids/waterfall by something I can only asume was a old powerplant at some point.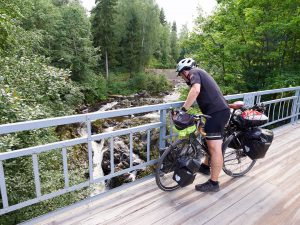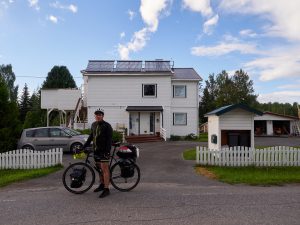 The waterfalls in Gjövik, and a special place in my childhood, my grandparents old home, were I spent countless summers when I was young, the new owners has done some interesting additions that I dont care about, but it's still Bergholm and I remeber it like it used to be.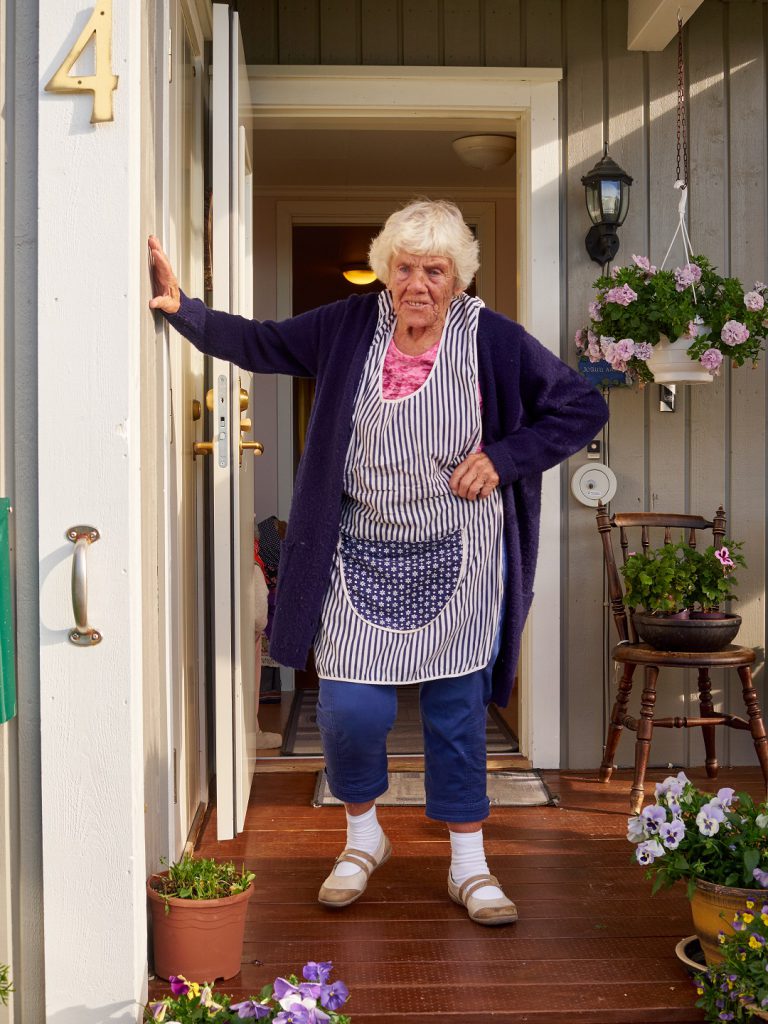 Bestemor! (Grandmom in Norwegian) this lovely woman took care of us for the day and the next, food and drink and laundry secured, and comfortable beds.

We spent the evening making food and catching up, told my granny about the trip so far, and the plans for the rest, made food (I got my favorit food, Norwegian meatballs) and everything that is needed with it.
Day 6 rest day sumary.
Well, not much to say about a rest day on a bike trip, we did not bike one centimeter this day, but we walked a little and my uncle came and picked us up so we could go to a bath and swim around, have a little sauna and generally just chill, also got some guiding on our route to the mountains, had some other family members come and visit and do laundry.