The first taste of mountain hills!
A full day without biking was nice, felt a lot better, even if my feet still hurt, but I stocked up on support bandages and tape during the rest, so hopefully it'll be ok.
We got up around 07.00am, ate and got ready to leave, snapped a picture of us with my grandmother before we left to.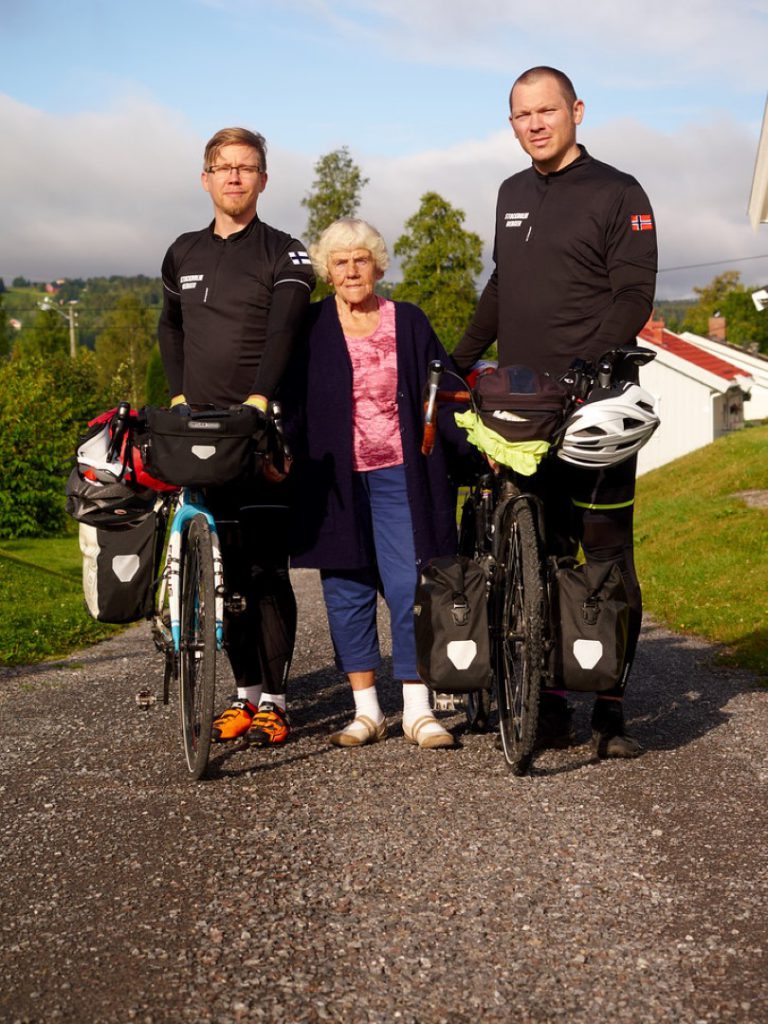 Departure day from my Grandmother, emotions were visible on the poor old lady! <3

The road we planned was some smaller road, with a gravel stretch before getting back on the asphalt and head towards the small town of Fall, by the Randsfjord, the road we actually checked out when my uncle drove us back and forth between the city and my grandmother, so no surprises there!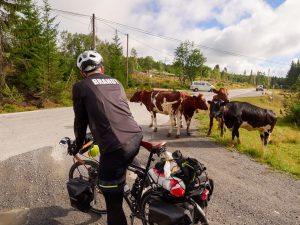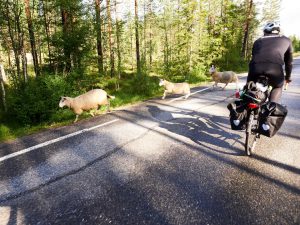 The "locals" where hanging around the crossing where the first gravel stretch met the old main road, these young bulls/cow things were so curious and tough from a distance, but two steps closer and they got nervous, sheep are sheep, they ran like, well sheep, poop spreading behind them like no tomorrow!
We had a short stop in Fall, just to drink and use the toilets at the store and what not before we went on with the trip, the weather was pretty ok so far to, and the roads from here to Dokka was pretty flat and fairly nice looking, with the lake and the mountains in the distance.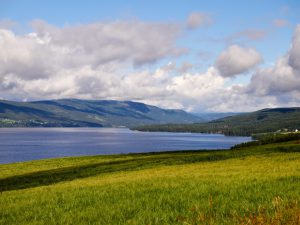 Randsfjorden with the mountains in the distance, and some church we passed by on the way to Dokka.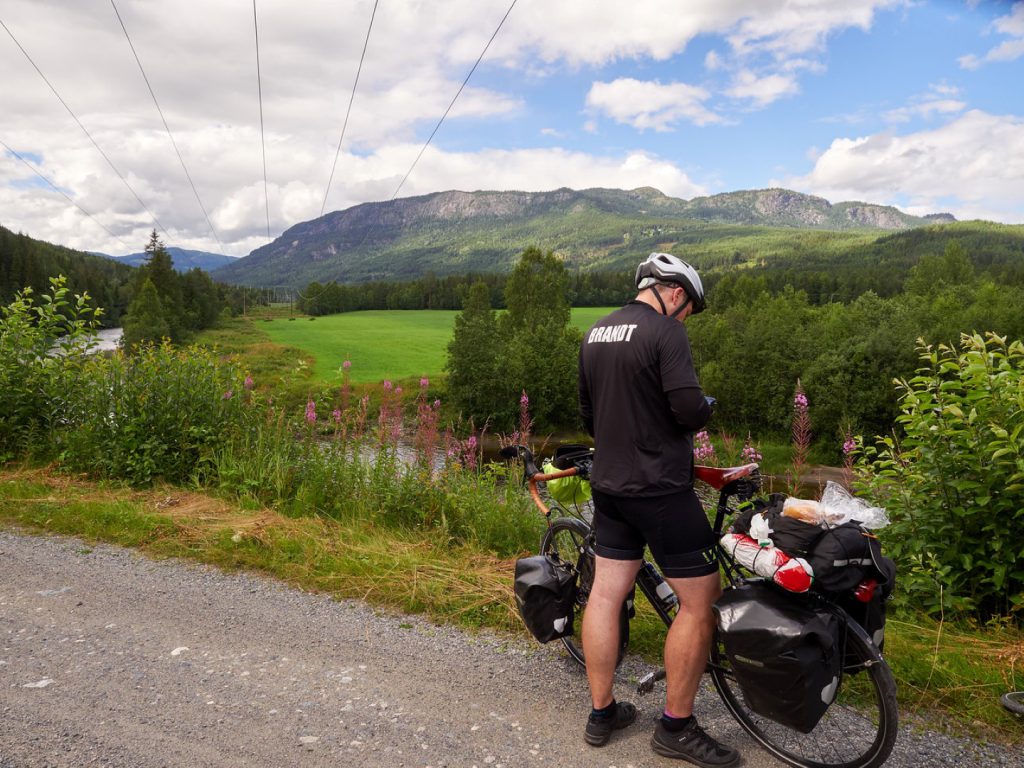 Gravel road after the church, nice views and all, stopped to have some sweet rolls and a drink.
We got to Dokka around noon, so it was time for a lunch, stopped pretty much at the first and best place we found, called Pit-stop or something, for pizza and Burger I think, something like that at least.
We also checked the maps a little and had our destination planned, somewhere close to Gol.
From here on we would pass what my Grandmother warned us about before, the Tonsåshill, and boy was that a long one for us, but even so, it didn't feel that bad, or maybe I just remember wrong!
We did get to see a  monument on the way to, Flag Mountain and well, I could not find much info about it but: "Oldest Norwegian Mountain flag in Valdres, painted in 1897."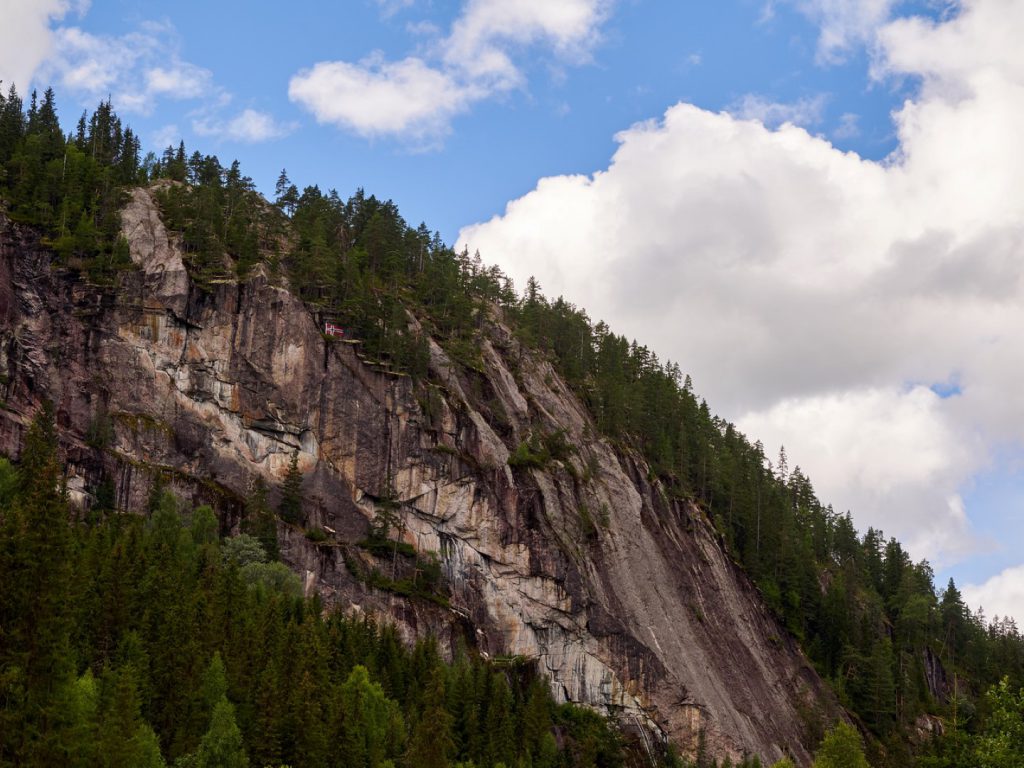 The flag mountain, in all it's glory (you really have to zoom to see it….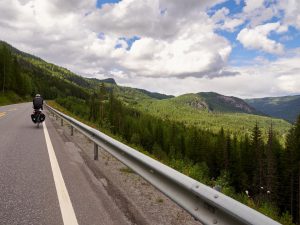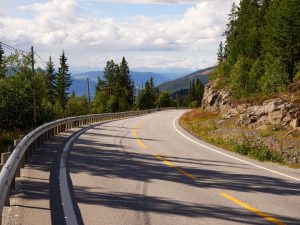 We went up, up, up, up the Tonsås Hill, and then it went down, down down towards Aurdal.
We had a longer stop in Aurdal, trying to figure out what to do, where to go, and if we needed to get food for the night here or later.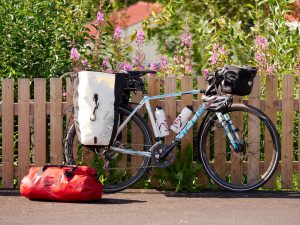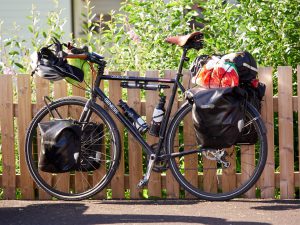 Our proud workhorses enjoying the evening sun in Aurdal, outside a food store.
What we figured out was that we would aim for Tisleidalen, and see how we felt there, that was about 20ish km away, but we were tired as it was, and it was uphill all the way there, and gravel, and getting late, and cold.
After shopping, eating, toilet and filling of bottles we headed out for the last leg, and got to camp a little later.
This night we had a few beers, I think it was two each, might have been one, and made food before sleeping in the +7° warm mountain air.
Unfortunately I don't think there are any pictures after Aurdal this day, so this is it for now.